Generic
The brazilian cousin of the conga is produced by Samuka da Índia with the help of Prakash (Svaram) and tuned to be used for Capoeira, Samba de Roda and others African rooted arts.
They are made according to the standard sizes (rum, rum-pi, lê), with wood of high resonance and quality. We also make 'Travel Size' atabaque for those who like to hit the drum everywhere they go.
Two finishing are available:
> Natural: Simple without any particular decoration.
> Decorated: Simple or complex design.
Specification
Head: Thick cow / Thin buffalo skin
Body: Beech wood essence
Cord: Synthetic / Manila
Finishing: Lacquer / Woodcoat / Natural polish
Included
Carry bag
Stand (only with regular size atabaque)
Price
120 € > 350 €
Contact us to get pictures of the instruments on stock and order:
Maintenance
> The skin will hydrate itself naturally every time the instrument is played and doesn't need any specific care.
Nevertheless, if you want to nourish it, lightly hydrate your hands with a moisturizer, the skin of the drum will naturally absorb what it needs.
> If you travel or do not use the instrument regularly loosen the skin to prevent any damage.
Tuning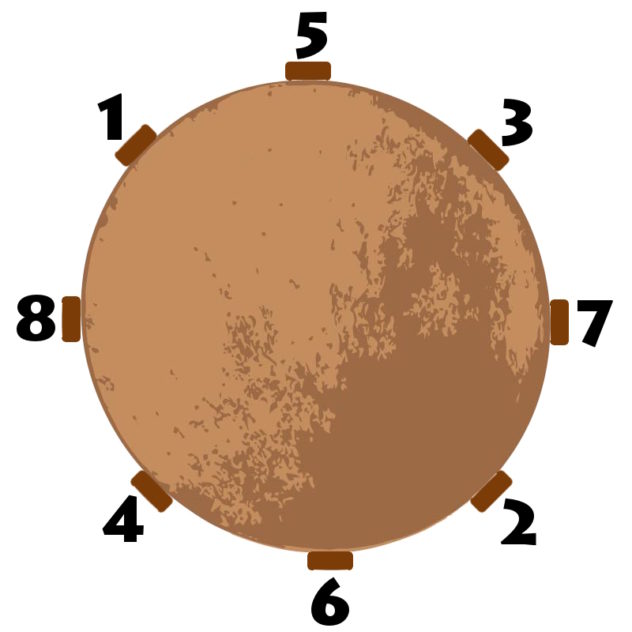 Skin drums need to be tuned so that tension on the skin is evenly spread.
For tuning, hammer with a mallet the wooden wedges located on the side of the drum. Hit each wedge one after the other in the order shown below, and check the resonance as well as the tension of the skin at every step.